Mini Tummy Tuck
The mini- tummy tuck is an operation to simply remove a small amount of skin from the lower abdomen. Sometimes this can also remove an unsightly scar from a previous C-Section or hysterectomy. The incision is placed low on the abdomen, and may even include the removal of some of your pubic hair region. It is ideal for women who still want to wear 2- piece bathing suits or bikinis, because the scar will be hidden beneath the bathing suit. If muscles below the navel are weakened, they can repaired through this incision. The navel is left alone or may be lowered a fraction of an inch. If you have a lot of extra skin or poor abdominal muscle tone above and below the navel, this operation may not be helpful. Dr, Coleman can help you to determine if this would be a good choice for you.
View Gallery
Proceed to Formal Tummy Tuck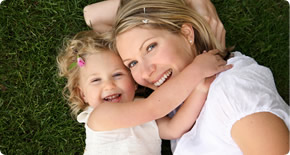 Mommy makeover.
Just because you've had children doesn't mean you have to sacrifice the way you look. Women who are unhappy with their post pregnancy body can choose a combination of procedures including: Tummy Tuck, Liposuction, and Breast Surgery to help restore and improve their figure as well as their self-image.